Trip Planning for Northern Gallatin
as of 5:00 am
| | |
| --- | --- |
| Mar 24 | 0″ | 15-30 W |
| Mar 23 | 0″ | 5-15 SW |
| Mar 22 | 1″ | 5-10 NE |
Bottom Line:
There are two major avalanche concerns today - avalanches breaking in the new and windblown snow and huge deep slab avalanches. Be wary once more than a couple inches of new snow have accumulated. The larger and much more dangerous concern is deep slab avalanches. Everytime it has snowed in the last month we've seen a deep slab avalanche break somewhere in our advisory area. This makes us nervous of even the relatively small snowfall amounts we're expecting today.
Past 5 Days
Mon Mar 20

Moderate
Tue Mar 21

Moderate
Wed Mar 22

Moderate
Thu Mar 23

Low
Fri Mar 24

Moderate
Northern Gallatin
Mt Blackmore
Sluffing and wet slides on blackmore
Mt Blackmore
WL-ASc-R1-D1
Coordinates: 45.4419, -111.0000
Caught: 0 ; Buried: 0
From obs: "I toured up Blackmore today and saw a lot of sluffing on steep terrain and very wet snow on s terrain. I pushed off a small wet slide that built a good amount of momentum and could've run far if the terrain allowed. I did dig a pit down to the new old snow interface and had no results in an etc."
More Avalanche Details
Northern Gallatin
Elephant Mountain
Deep slab on Elephant Mtn.

Elephant Mountain
R3-D3-O
Coordinates: 45.4382, -110.9900
Caught: 0 ; Buried: 0
Large avalanche seen in the Bunny Ears on Elephant Mtn in Hyalite. Deepest part of crown estimated to be 8-10'. Observed by two parties on 2/23/23. Unsure on exact timing of the avalanche, but likely was between 2/21 and 2/23. 
More Avalanche Details
Northern Gallatin
Divide Cirque
New snow slide in divide basin
Divide Cirque
R1-D1.5
Elevation: 10,000
Aspect: N
Coordinates: 45.3934, -110.9690
Caught: 0 ; Buried: 0
I went for a walk up to divide basin today and noticed a slide in the back of the basin on a high north facing slope , there was 5" of low density snow up high 
More Avalanche Details
WebCams
Bozeman Pass, Looking SE
Select a snowpit on the map to view the profile image
Weather Forecast Northern Gallatin
14 Miles SE Gallatin Gateway MT
Winter Storm Warning until March 27, 12:00amClick here for hazard details and duration Winter Storm Warning
 Winter Storm Warning until March 27, 12:00am

NOW until
12:00am Mon

Winter Storm Warning

Overnight



Heavy Snow

Low: 11 °F

Saturday



Heavy Snow

High: 18 °F

Saturday
Night

Heavy Snow

Low: 10 °F

Sunday



Snow

High: 19 °F

Sunday
Night

Snow

Low: 9 °F

Monday



Chance Snow

High: 20 °F

Monday
Night

Chance Snow
then Partly
Cloudy

Low: 8 °F

Tuesday



Mostly Sunny
then Chance
Snow

High: 25 °F
The Last Word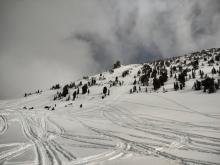 On Wednesday, March 22nd, a snowmobiler was killed in an avalanche in central Idaho. This brings the total number of avalanche fatalities in March to 7 people across the U.S.
More info on each event is available at the Avalanche.org Accidents Page.