Trip Planning for Northern Madison
as of 5:00 am
| | |
| --- | --- |
| Mar 24 | 3″ | 20-30 SW |
| Mar 23 | 0″ | 10-20 SW |
| Mar 22 | 1″ | 5-10 NE |
Bottom Line:
There are two major avalanche concerns today - avalanches breaking in the new and windblown snow and huge deep slab avalanches. Be wary once more than a couple inches of new snow have accumulated. The larger and much more dangerous concern is deep slab avalanches. Everytime it has snowed in the last month we've seen a deep slab avalanche break somewhere in our advisory area. This makes us nervous of even the relatively small snowfall amounts we're expecting today.
Past 5 Days
Mon Mar 20

Moderate
Tue Mar 21

Moderate
Wed Mar 22

Moderate
Thu Mar 23

Low
Fri Mar 24

Moderate
Northern Madison
Beehive Peak
Old deep slab in Spanish creek.

Beehive Peak
HS-R3-D3.5-O
Coordinates: 45.3539, -111.4050
Caught: 0 ; Buried: 0
From Obs: "Toured around beehive peak today. Viewed 1 older large avalanche and other smaller slides. All were north to east aspects"
More Avalanche Details
Southern Madison
Sunlight Basin
Natural Avalanche Sunlight Basin


Sunlight Basin
HS-NC-R3-D2-O
Elevation: 9,400
Aspect: NE
Coordinates: 44.9731, -111.3100
Caught: 0 ; Buried: 0
On our ride up the Taylor Fork, we saw several natural avalanches that appeared to have broken about a week ago. This avalanche was in Sunlight Basin. 
More Avalanche Details
Northern Madison
Dudley Creek
Dudley Creek Avalanche

Dudley Creek
SS-ASc-R2-D1.5-I
Elevation: 9,200
Aspect: SE
Coordinates: 45.2865, -111.2900
Caught: 0 ; Buried: 0
From Obs: "On Saturday we toured up Dudley Creek. At around 1pm we ski cut an isolated, wind loaded pocket on a SE aspect at approximately 9200ft elevation and released a wind slab (see photo). The slab was about 20 feet wide, about 1 foot at it's deepest, and ran for about 200 feet. Staying wary of wind loading, we dug a pit on a NE aspect, in a spot without evidence of significant wind loading, and received an ECTNX. Although we did not identify any failure on buried weak layers in this location, it will remain something to watch for with more snow and warmer temps on the way."
More Avalanche Details
WebCams

8800' Camera, Lone Peak view
Yellowstone Club, Timberline Chair
Select a snowpit on the map to view the profile image
Weather Forecast Northern Madison
5 Miles NNW Big Sky MT
Winter Storm Warning until March 27, 12:00amClick here for hazard details and duration Winter Storm Warning
 Winter Storm Warning until March 27, 12:00am

NOW until
12:00am Mon

Winter Storm Warning

Overnight



Heavy Snow

Low: 6 °F

Saturday



Heavy Snow

High: 13 °F

Saturday
Night

Heavy Snow

Low: 8 °F

Sunday



Snow

High: 15 °F

Sunday
Night

Snow Likely
then Chance
Snow

Low: 3 °F

Monday



Chance Snow

High: 17 °F

Monday
Night

Partly Cloudy

Low: 4 °F

Tuesday



Partly Sunny
then Chance
Snow

High: 21 °F
The Last Word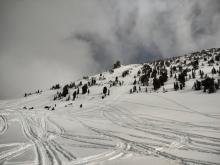 On Wednesday, March 22nd, a snowmobiler was killed in an avalanche in central Idaho. This brings the total number of avalanche fatalities in March to 7 people across the U.S.
More info on each event is available at the Avalanche.org Accidents Page.